ADCOR® 500S
Thick-sectioned, conformable, hydro-expansive waterstop for preventing water entry through joints in concrete sub-structures
Product Description
A conformable, swellable polymer/butyl rubber waterstop strip that expands in contact with water. When fully encapsulated by poured concrete, the expansive forces form a seal against concrete faces. The seal resists hydrostatic pressure, stopping water from entering sub-structures.
ADCOR® is a unique product that has been specifically developed to provide higher performance than bentonite or conventional swellable rubber waterstops. Superior performance arises from:
Controlled, reproducible, volumetric expansion.

Cohesive strength maintained after volumetric expansion.

Malleable and plastic, enabling easy application to a variety of concrete profiles.
GCP can also uniquely provide continuity of swellable waterstops at construction joint/movement joint intersections. This is achieved by linking Adcor 500S with SERVITITE® AT 200 co-extruded hydrophilic/ PVC waterstops (see detail).
Product Applications
Construction joints in in-situ concrete structures
Casting new concrete against existing
Floor slabs cast against diaphragm retaining walls, steel sheet piles and secant piled walls
Joints between floor slabs and pile caps
Pipe penetrations through floors and walls
Remedial 'breaking out' of concrete
System Components
Adcor 500S
25mm x 20mm waterstop strip, supplied in 5m rolls.
Adcor Mastic
A hydrophilic mastic for use as a bedding bead on irregular concrete surfaces prior to the application of Adcor 500S. Adcor Mastic can also be used as a stand alone hydrophilic sealant where application of Adcor 500S is impractical.
Adcor Adhesive MS
An adhesive for gluing Adcor 500S to smooth concrete, steel and plastic substrates. Supplied in cartridges for gun application.
PAK ADHESIVE™
A contact adhesive for gluing Adcor 500S to smooth concrete, steel and plastic substrates. Supplied in cans for brush application.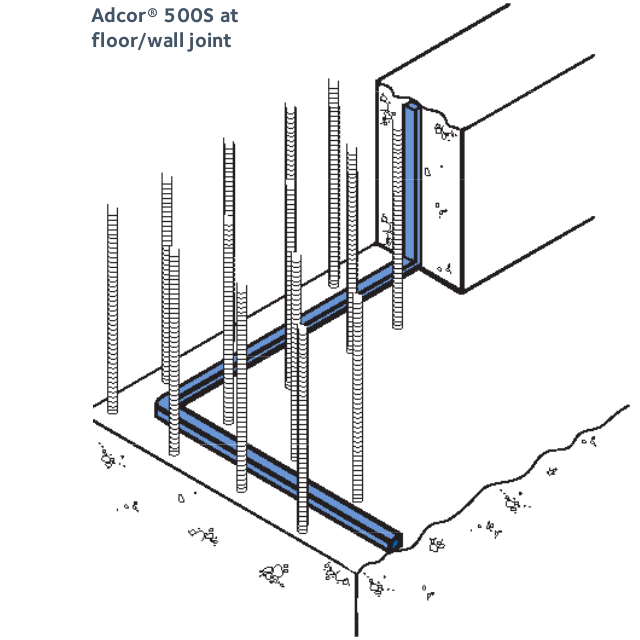 Details shown are typical illustrations only and not working drawings. For assistance with working drawings and additional technical advice please contact your local GCP representative.
Installation
Concrete surfaces must be clean and free of all contaminants. Remove all concrete spatter and nibs.

On irregular concrete faces gun a 10mm bead of Adcor Mastic as a bedding for Adcor 500S.

Fix Adcor 500S using masonry nails 40mm to 50mm long with a washer 20mm in diameter. Hilti EM6-20-12 FP8 shot fired fixings with 6mm nuts and 20mm diameter washers may also be used. Fixings should be spaced at a maximum of 300mm centres.

Adcor Adhesive MS can be used on clean substrates, wire brushed to remove all dust, dirt, rust and other contaminants. The adhesive is damp surface tolerant but will not adhere to wet surfaces. Gun a 10mm bead onto the substrate, and press Adcor 500S firmly into place.

Pak Adhesive must be applied to dry substrates only. Apply by brush to both the substrate and Adcor 500S. Wait until both surfaces are dry to touch, then press Adcor 500S firmly into place.
At all movement joints, link with GCP co-extruded AT System waterstops using Secura clips (see detail).

All joints should be overlapped 100mm. Ensure full contact between jointed pieces.

Adcor 500S can be bent around corner. However on complex geometry use Adcor Mastic as a gap filler.

Any damaged sections should be removed and repaired with either a new section of Adcor 500S or a 25mm min bead of Adcor Mastic.

Keep Adcor 500S dry prior to pouring concrete.
Product Advantages
Controlled volumetric expansion - reduces risk of concrete spalling.

Conformable – can be installed onto a variety of irregular substrates.

Retains cohesive strength at both original and expanded volume.

No need for protective steel mesh.

Resists at least 6 bar (60m) hydrostatic pressure.

Volumetric expansion min 100% in cement water.

Simple overlap jointing on site.

Reproducible swell after wet – dry cycling.

Contains no sodium bentonite.

Can be easily joined to PVC waterstops at movement joints.

Unaffected by freeze/thaw cycling.
Supply
Adcor 500S
5m rolls
6 rolls/carton
30 cartons/pallet
pallet weight 700kg
Adcor Mastic
Adcor Adhesive MS
310mL cartridge
310mL cartridge
Ancillary Products
Adcor 500S Mesh
Profile
1m strips, 30 strips/bundle
Large Secura Clips
Each
ADCOR® 500S attached to SERVITITE® AT 200 at Movement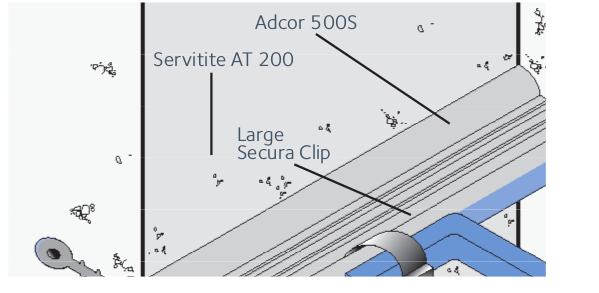 Technical Data
|   | Typical Value |
| --- | --- |
| Profile Size | 25mm x 20mm |
| Colour | Light Blue |
| Volumetric Expansion in Cement Water | min 100% |
| Water Pressure Resistance | >6 bar (60m) |
| Density | 1.46kg / cm3 |
| Weight | 0.7kg / m |
| Maximum Bend | 180o at 0oC |
| Application Temperature Range | -15oC to 60oC |
| Service Temperature Range | -45oC to 120oC |
| Minimum Concrete Cover | 70mm |
| Minimum Overlop | 100mm |
Technical Services
For assistance with working drawings for projects and additional technical advice, please contact GCP Applied Technologies.
Health and Safety
Read the product label and Material Safety Data Sheet before use. Users must comply with all risk and safety phrases.
Adcor 500S
There is no legal requirement for a Material Safety Data Sheet for Adcor 500S. For health and safety questions on this product please contact your local GCP representative.
Limitations
Not suitable for use in movement joints (use GCP co-extruded AT System). Not suitable for use with pre-cast concrete components.
Design
Waterstop networks must be continuous through all joints and penetrations if they are to be effective. If movement joints are necessary use SERVITITE® AT 200 or SERVISEAL® AT 240 PVC waterstops with co-extruded hydrophilic end bulbs. Adcor 500S can be easily jointed to these profiles (see detail).
gcpat.in | India customer service: +91 124 4885900
We hope the information here will be helpful. It is based on data and knowledge considered to be true and accurate, and is offered for consideration, investigation and verification by the user, but we do not warrant the results to be obtained. Please read all statements, recommendations, and suggestions in conjunction with our conditions of sale, which apply to all goods supplied by us. No statement, recommendation, or suggestion is intended for any use that would infringe any patent, copyright, or other third party right.
Adcor, Serviseal, Servitite and Pak Adhesive are trademarks, which may be registered in the United States and/or other countries, of GCP Applied Technologies, Inc. This trademark list has been compiled using available published information as of the publication date and may not accurately reflect current trademark ownership or status.
© Copyright 2016 GCP Applied Technologies, Inc. All rights reserved.

GCP Applied Technologies Inc., 2325 Lakeview Parkway, Alpharetta, GA 30009, USA
GCP Applied Technologies India Private Limited, Unit No. 208, Second Floor, Time Tower Building, Sector-28, MG Road, Gurugram, Haryana-122002, India
This document is only current as of the last updated date stated below and is valid only for use in India. It is important that you always refer to the currently available information at the URL below to provide the most current product information at the time of use. Additional literature such as Contractor Manuals, Technical Bulletins, Detail Drawings and detailing recommendations and other relevant documents are also available on www.gcpat.in. Information found on other websites must not be relied upon, as they may not be up-to-date or applicable to the conditions in your location and we do not accept any responsibility for their content. If there are any conflicts or if you need more information, please contact GCP Customer Service.
Last Updated: 2022-11-18
https://gcpat.in/en-gb/solutions/products/adcor-500s