Protecting bridges in extreme climates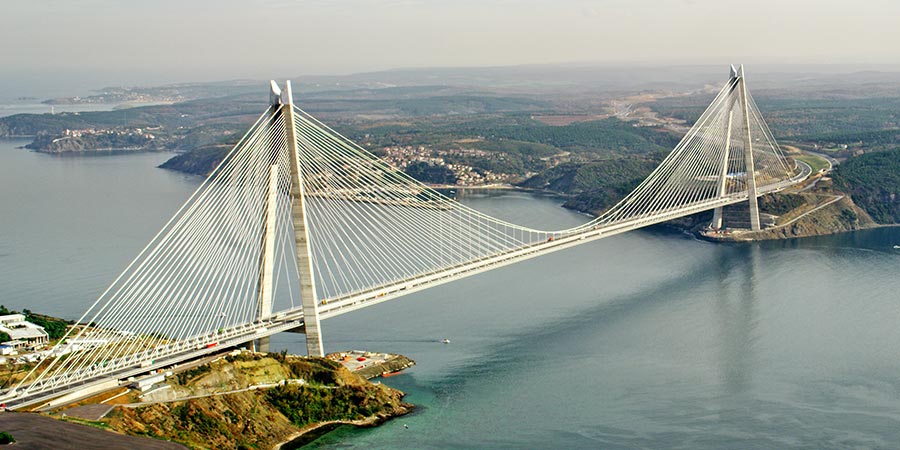 Harsh weather conditions can be a challenge for bridge construction and renovation projects, in more ways than one. Concrete and steel bridges are susceptible to corrosion from water and water born contaminants. 
Corrosion of reinforcement due to chloride-ion contamination in reinforced concrete bridge structures is one of the major causes for deterioration in highway bridges in the U.S., according to a study conducted by Construction Research Congress.1 In addition, the Research Institute for Sustainable Urban Development looked into bridges in Hong Kong and the Chinese mainland, and reported that approximately 24% of bridges in coastal regions suffer from steel bar corrosion and corrosion-induced cracking.2
Extremes in cold, heat and even humidity are another factor in bridge construction and renovation — often throwing project schedules off course. Some bridge waterproofing membranes are extremely sensitive to moisture and have a limited temperature and humidity application window. This can leave work crews waiting around, at the mercy of the weather. This can lead to lost productivity, delays to construction schedules and revenue loss.
Protecting an iconic bridge
One landmark New York superstructure tackled these challenges by choosing a bridge deck waterproofing system that could both resist unforgiving environmental conditions and be applied virtually year round. The Verrazano-Narrows Bridge sees a large volume of traffic. Heavy use took its toll on the old 50-year old bridge structure, which was twinned with a new high performance bridge deck. With a tight construction schedule, a waterproofing product was required that could be installed quickly and perform in both extremely high summer temperatures and extremely cold winter temperatures. 
The ELIMINATOR® bridge deck waterproofing membrane offers high bond strength between the deck and the asphalt paving, acting as a barrier to prevent moisture from corroding steel reinforcement. In addition, the equipment used to spray the membrane is so efficient and reliable that more than 250,000 sq. ft. of waterproofing was installed per week on this 2.7 million sq. ft. bridge deck. The speed of installation allowed the general contractor to accelerate the construction program with all of the associated benefits.
Historic bridge requires bridge deck waterproofing
The ELIMINATOR® bridge deck waterproofing membrane was also used to protect a historic bridge in the Czech Republic. Flooding as well as wear and tear from weather required the 650-year-old Charles Bridge to face a major renovation, including repairing the upper bridge section, replacing the old concrete deck, installing new waterproofing system, replacing stones in sills, adding new drainage and repairing the structure's pillars.
To extend the life of the bridge, the engineers on the project were keen to use an innovative and long lasting solution for this work. The ELIMINATOR® system was chosen due to its ability to provide a tough, durable membrane that would achieve the required bond strength. Based on the unique ESSELAC® technology, the ELIMINATOR® system can be applied in a wide range of temperatures and climatic conditions, which meant that installation of the waterproofing could be carried out throughout the year, a feature which the competing systems were unable to offer.
Europe's busiest bridges seek swift repair solution 
The Second Bosphorus Bridge in Istanbul took a similar approach. Made up of two elegant, steel deck structures, the Second Bosphorus Bridge joins Europe and Asia across the narrow straits of the Bosphorus while the Haliç Bridge carries the O-1 Highway over the Golden Horn Estuary. Between them they carry 330,000 vehicles per day, making them Europe's busiest road bridges.
To reduce traffic disruption during waterproofing and resurfacing of the bridge decks, the project team needed a waterproofing solution that was fast to apply, rapid curing, durable and tolerant of difficult site and climatic conditions. Based on their previous experience, KGM (the Turkish General Directorate of Highways) selected the ELIMINATOR® bridge deck waterproofing membrane to protect the two bridges.
The ease of application of the cold, spray applied ELIMINATOR® system helped speed up the contract. The waterproofing system was rapidly applied using portable, simple-to-use airless spray equipment, and the liquid waterproofing solution fully cured in under an hour, at which point it could be trafficked.
The ELIMINATOR® system's tolerance of climatic conditions, ability to bond to itself and to accept full site traffic after only one hour, allowing other trades to access the bridge at all times. These benefits enabled the 33,600m² deck of the Second Bosphorus Bridge and the 40,000m2 deck of the Haliç Bridge to be completed 30 days ahead of schedule.
1 Maintenance Practices for Chloride-Induced Corrosion in Reinforced-Concrete Bridge-Pier Columns, Construction Research Congress, 2018
2 The Research Institute for Sustainable Urban Development, 2017
Tags
Bridge Deck Waterproofing
Bridges
ELIMINATOR
Transportation Infrastructure
Waterproofing